Mayors Along Raritan Valley Line Call for Action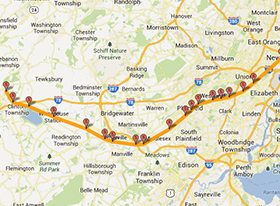 FANWOOD, NJ — Fanwood Mayor Colleen Mahr, along with Co-Chair Mayor Shelley Brindle of Westfield, RVRC Trustee and Mayor of Bound Brook Robert Fazen and other mayors along the Raritan Valley Line (RVL), have submitted a petition to Governor Phil Murphy and members of the Senate and Assembly to address the deteriorating service and, specifically the lack of peak hour one-seat rides for RVL customers.
Mayor Mahr, a Mayors Coalition of Raritan Valley Line co-chair, has continued to express concern that better service for the RVL will be overlooked amid the many serious issues facing NJ Transit.
"As Mayors, we represent more than 23,000 residents who use the train daily, and we owe it to them to push for better service. In addition, towns on the RVL will be at a disadvantage to compete in the residential and commercial markets," said Mayor Mahr.
(read full article by clicking on link below)
https://www.tapinto.net/towns/scotch-plains-slash-fanwood/articles/fanwood-mayor-mahr-others-call-for-improved-service-on-raritan-valley-line