Changing Trains in Newark – Stress and Mayhem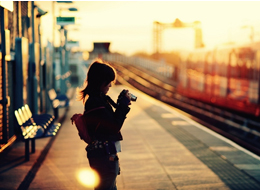 My daughter had been listening to me talking about the "one seat" ride into NYC Penn Station for quite some time.  We had the occasion to ride the train on Memorial Day in the early evening, and she asked me if we would get to go all the way into the city on one train.
Of course, the evening "one seat" does not come into effect until November, so we had to deal with going to Newark, getting off on platform 5, racing to platform 1, only to be told that the next train was running 20 minutes late! We finally get on the next train, that is so full to overflowing we almost cannot find standing room!
The original plan was we were going to get on the subway to go to the 92nd Street Y, but after so much drama and time dealing with trains, we gave up and took a taxi!  We are really looking forward to the "one seat" ride becoming a regular event on the Raritan Valley Line!